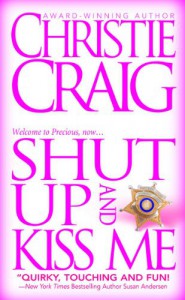 This funny romantic suspense novel set in small town Texas seems to be either a big hit or a big miss with reviewers. It was a big hit with me. I thought the balance between humor, romance and suspense was excellent. I loved Ms. Craig's version of "quirky" characters. I have an intense dislike for the sloppily written, cliched and caricatured type of "quirky" character that is a staple of both southern romance and southern cozy mysteries. But these quirky characters come off as genuine individuals and I think that for the most part Ms. Craig put a lot of thought and care into developing both the main and secondary characters.
I found much of this book hilariously funny and some of it very touching as well. I enjoyed the lead characters' path to their HEA. I do agree with some reviewers that the number of secondary characters and the attention paid to them does take away from the main relationship. But I think that is a trade off for the secondary characters being well developed and the suspense plot having as much of a share of the book as the romance. There is one character who came off as strong sequel-bait but I do not see a second book with him in it in any lists of Ms. Craig's books. I hope she does write it someday.
Overall I thought this was a fun, lightweight read with a lot of heart and great characters.